As a faith-based coach, Katie helps experts and coaches design, grow and delight in the business that allows you the lifestyle and legacy impact you desire without compromising your family or your faith.
In her Master Teacher Accelerator program she teaches you how to turn your online course into a high ticket offer and grow your income to $10k/month. And in the Queens Mastermind she helps experts with courses become amazing business owners and leaders in their niche.
Katie's gripping tale of leaving behind everything she knew to learn another language and serve in another country, to being betrayed by leadership and bootstrapping her way to building a six-figure international business, growing x5 during a global pandemic, and leading an international movement will leave your audience inspired and motivated to take action with their own transformational message that will change lives in our world for the better and leave a legacy into the future.
Your attendees will enjoy Katie Hornor's unforgettable message of how we can all leverage the message we've been given to grow a movement, make our handprint on the walls of time, and ultimately leave a lasting legacy for years to come.
Katie has been thrilling international audiences since her late teens and this truly one-of-a-kind message will have your group excitingly talking about it for years to come! From her experience developing a movement and training leaders for the past 14 years, she will share unique insights into how we can live out the proven mantra of "your message matters" and leave behind your mark to impact the world into future generations.
This message of importance and the steps Katie shares will help your attendees to better lead and succeed in today's diverse, global and connected environment. This highly acclaimed presentation will energize your attendees and give them practical tools to:
Multiply their impact and time by crafting premium course assets around their message
Scale their business beyond 1-to-1 services
Step out as solid leaders in their niche or movement
And of course, so much more!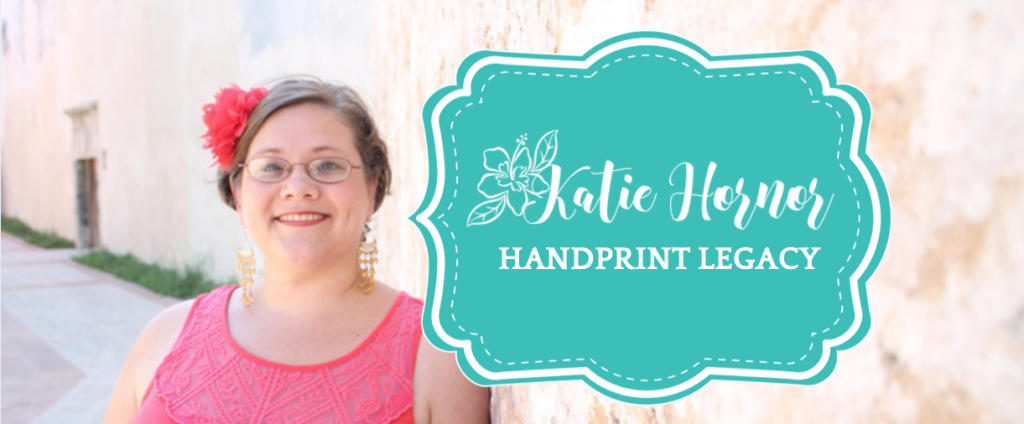 Katie Hornor is a popular author, online business coach, mentor and international speaker whose forte is Christian Leadership, Curriculum Development, and Relationship Marketing.
Her most popular offerings are
BusinessWithGod.online
SuccessfulOnlineCourses.com
Handprint Legacy Live, annual marketing event
Lemonhass.com
and CapacitaciónHomeschool.com
Katie is also the author of over 50 self-published books, including 9 Amazon best sellers.
Katie's Lifestyle Business Podcast, For Your Success, began airing in February 2017 and has had such guests as John Lee Dumas, Gary Leland, Aaron Walker, Jill Stanton, Rachel Martin and Matt Tommey.
Her articles have been published in various places both on and offline including: The Huffington Post, Homeschooling Today Magazine, WordTraveling.com, HomeschoolBlogging.com, and HomeschoolGiveaways.com
She has been featured at FinCon, SHIFTCon, Social Media Week Lima, Blended Blogging Conference, and The Florida Parent Educator's Association Annual Conventions, among others, and now hosts her own semi-annual Christian Marketing event: Handprint Legacy Live.
Born in Binghamton, NY, in 1979, she currently coaches entrepreneurs from her home abroad in Campeche, Mexico where she lives with her husband, managing their local coffee shop, home educating their 5 children, and leading the Homeschool Movement in Latin America.
Media Mentions | Twitter | Instagram | Pinterest | Facebook | LinkedIn | My Books