Tentmaking Missionaries based in Campeche, Mexico
Leaders in the World-Wide, Spanish-Speaking, Homeschool Movement
Subscribe to their monthly Hornor Herald newsletter using the form below.
What is Tentmaking Missions?
A Tentmaker is a dedicated, spiritually mature Christian who views work in light of the Great Commission and as an opportunity to serve the Kingdom of God. Therefore, work is a vital aspect of Christian witness, because it provides substantial means of developing relationships, credibility, and contexts for ministry.
Locally the Hornors practice relationship evangelism through their local mission church's services, various classes, and outreaches, as well as through the homeschool ministry, retreats, and business coaching.
In addition to the Hornor's local mission ministry in Campeche, they have founded 3 businesses (debt free) to provide both financial stability, and further opportunities to serve believers and reach souls for Christ.
The Hornor's currently have received support pledges for 53% of their needed monthly budget.
Your purchases of the Hornor's products and services through any of their websites makes it possible for their family to continue to expand their reach for the Kingdom, and to minister to individuals & families in Mexico and around the world.
Learn more about tentmaking here.

Materials for Spanish-Speaking Homeschoolers
Lemonhass®, is the Hornor's online Spanish Christian Bookstore and home to the Spanish-Language, K-6th Literature-based, complete Homeschool Curriculum developed by Tap & Katie.
Lemonhass.com also provides a blog and video podcast trainings for home-educating parents, written by one of 8 different contributing home educator writers. Watch the video or visit the site for more information.
Training for Bloggers & Online Business Owners
Taking what they have learned about blogging and online business, the Hornors also offer free (and bi-lingual) blogging education, as well as a membership program and professional coaching experiences for other families hustling to create a stable income online. Visit BloggingSuccessfully.com for more information.

Inspiration to Live Exceptionally & Praise Intentionally
Katie's blog at ParadisePraises.com, is a wealth of  inspiration for every woman from teens to grandmothers.
Visitors can sign up for her FREE e-course "Intentional Praise" which shares a bit of their ministry story and challenges readers to choose praise in every circumstance. You can also check out their English language devotionals and homeschool products in the Paradise Praises shop.
Katie's newest book, In Spite of Myself, releases November 7th.

The Hornor's Speaking Schedule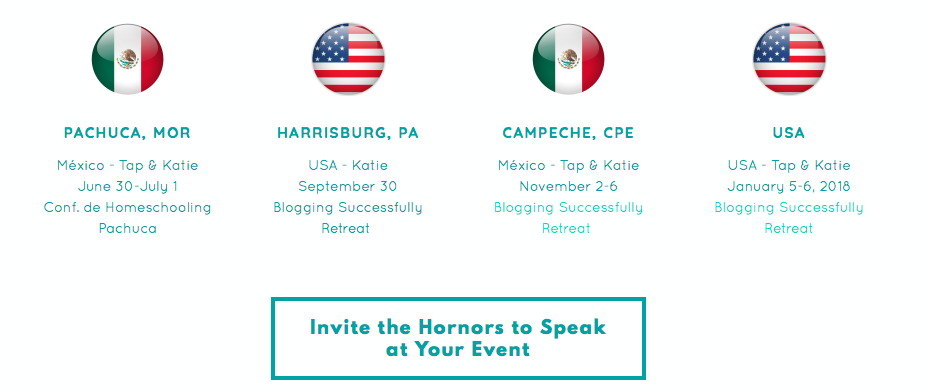 Celebrating 10 Years in México
April 13, 2017, The Hornors celebrated 10 years in México!
Donate Tax-Deductibly through the Central Missionary Clearinghouse
Email: tkhornor @ gmail {dot} com
US: 864-400-8309 | Mex: 981-129-7001
Subscribe to the Hornor's Monthly E-Newsletter
Copyright © 2007-2017 TKHornor.com