You were not created to blend in!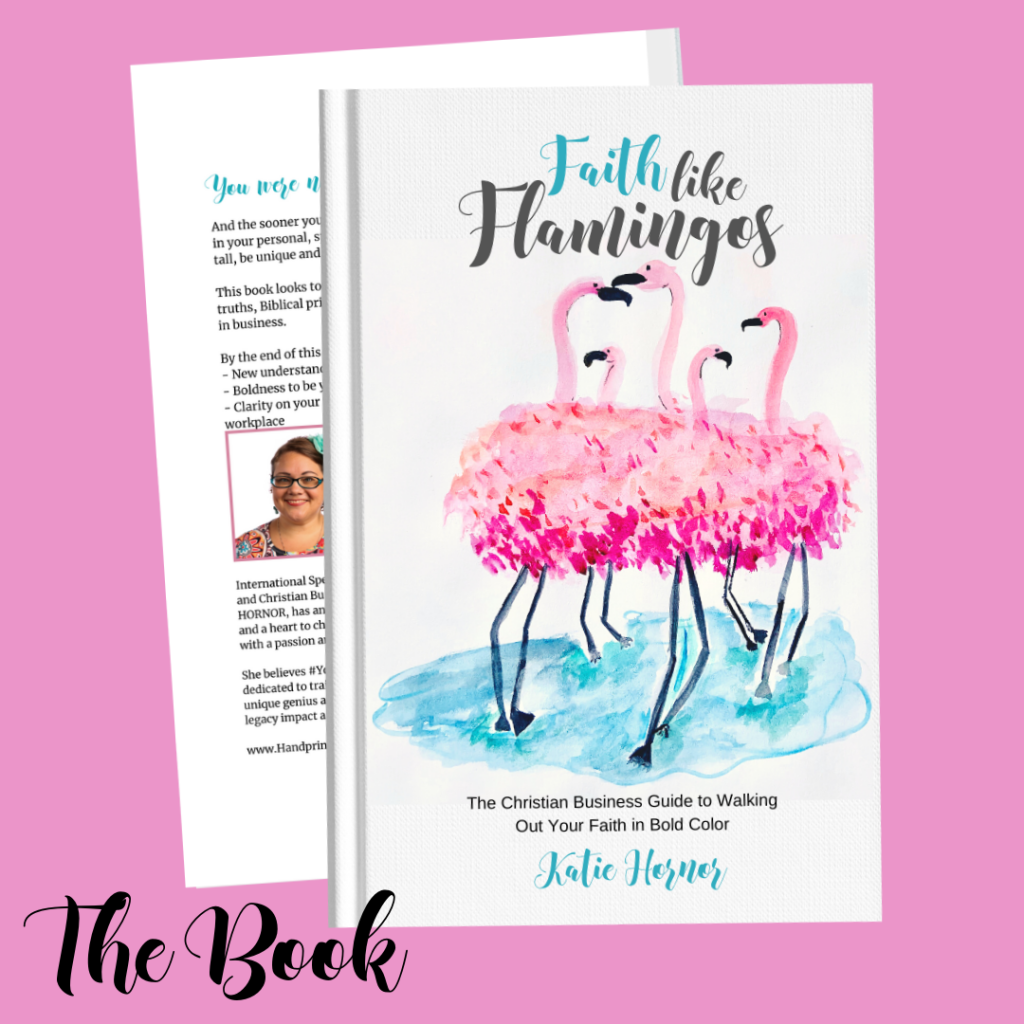 And the sooner you embrace who YOU ARE, the better off you'll be in your personal, spiritual and business life. You were born to walk tall, be unique and fulfill your purpose in bold color!
This Christian Business Guide looks to the Creator's most unique bird to teach timeless truths, Biblical principles, and practical applications about success in business.
By the end of this book you will have
– New understanding as to your identity in Christ
– Boldness to be you, unapologetically
– Clarity on your purpose in the Body of Christ, and in the workplace
And a new appreciation for God's funky, comical birds, and, of course, the fabulous color pink.
You May Also Like:
Listen to the Introduction:
Endorsements:
Faith Like Flamingos is a surprising flower of uniqueness in a desert of mediocrity. A whimsical work of art that delivers a serious message. The good news: you can be your amazing, one-of-a-kind self, stand out from the crowd, refuse to compromise your values … and STILL succeed wildly. This book is your guide.
Ray Edwards
Ray Edwards.com
Faith Like Flamingos is a colorful, practical, and encouraging book to help Christian entrepreneurs be exactly who God has called them to be in their business. Katie has done an excellent job infusing her gift of storytelling, biblical wisdom, and business experience into a beautiful work of encouragement for Christian business owners.
Mike & Carlie Kercheval
ChristianMarriageAdventures.com
Owning a business as a Christian can be a daunting experience. Not knowing when to be bold and when to be meek is such a struggle. In Faith Like Flamingos, Katie reaches the heart of the entrepreneur and reassures you that it's okay to embrace the gifts God has given you and share them with the world. It's okay to be exuberant and full of life, while pursuing your passion. This book should be on every business owner's "must read" list.
Stephanie Eidson
HomeschoolBlogging.com
Katie, the way you draw connections between the beauty of one of God's Creations to another (us!) is powerful and oh so encouraging. We are all so different and I feel like this book is a celebration of our uniqueness!
Kelly McCausey
MomWebs.com
With the creativity of an artist and the business acumen of a seasoned pro, Katie has written an encouraging book for entrepreneurs that is both practical and heartwarming. A big high-five to you Katie for a great book! And my highest recommendation of Faith Like Flamingos for all those who want to walk by faith in the marketplace.
Matt Tommey
MattTommeyMentoring.com
In Katie's new book, Faith Like Flamingos, you will find many ways to accomplish your purpose in life. There is no need to ever slump over with embarrassment, she teaches you how to stand tall embracing your uniqueness while never compromising your values.
Aaron Walker
ViewFromTheTop.com
For too long Christians have been told to blend in, stay in the background and not raise a ruckus which is in opposition to the early church who were "loud and proud" about what truly mattered. They stood out, charged in front, and boldly proclaimed their faith. Today's Christian business owners should do the same. Katie will show you how. She is such a breath of fresh air in a stagnant world. Read Faith Like Flamingos carefully, absorb its message, and take action on what you are called to do.
Matt McWilliams
MattMcWilliams.com
How unique the flamingo is shows me how unique my story is too! Faith Like Flamingos has challenged me to find stories from my childhood and adult life I can also use as teaching illustrations in my own writing."
Judith Kowles
HisUnmeasuredGrace.com
About the Author
Katie Hornor
International Speaker, Movement Maker and Online Business Coach, KATIE HORNOR, has an eye for the unique and a heart to champion those "odd birds" with a passion and a message that will change the world.

Katie is a self-taught entrepreneur and Christian business mentor to more than 60 business owners. In her last 5 years of coaching Katie's come to realize that most Christian business owners, like the flamingos, seem oblivious to how special, and fabulous they are which results in running their business governed by the fear of man, feelings of inadequacy, or sabotaged by comparison.

After talking to many of her clients and students in her annual "Doing Business, with God" course, Katie realized that boldness to be uniquely YOU in the workplace only comes by changing your beliefs and your thinking about the God who created you for and called you to your work. After a family trip to see the fabulous flamingos of the Yucatan, the analogies started coming and <em>Faith Like Flamingos</em>™ was born.

The optional companion Bible Study experience (releasing May 2020) is designed to help Christian business owners cultivate a daily habit of practicing knowing God through time in God's Word, prayer, and reflective journaling. And as a result, your faith in God will be strengthened, your purposes in business established, and your legacy unashamedly built on solid ground! The study guide contains notes for a group study leader as well for those who'd like to incorporate this into their weekly mastermind, Sunday school or small group Bible studies.

Katie believes #YourMessageMatters and is dedicated to training leaders to package your unique genius and grow your movement via online courses for legacy impact at www.HandprintLegacy.com